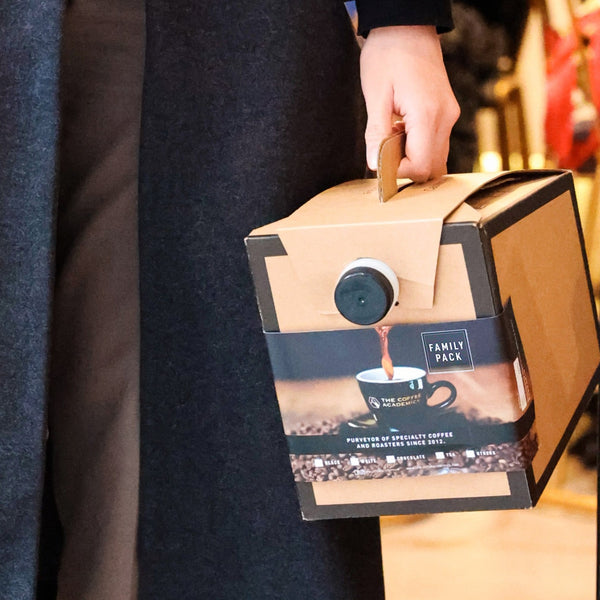 2.5 L ( Perfect for 12-14 people) 

Delivery Fee
Enjoy a free delivery upon $1,200 purchase.
HK$150 Delivery charge for single recipient per order.
Terms and Conditions
All products require at least 3 days in advance order and delivery will be arranged at The Coffee Academïcs. 

All products are on a first-come, first-served basis; while stock last.

Delivery is not available for outlying islands, except Discovery Bay. 

The Coffee Academïcs has the right to refuse to accept or reject any Order for the Product / Service in the Online Store without giving prior notice to the Customer.

In case of dispute, The Coffee Academïcs reserves the right to make the final decision.

After the order has been confirmed with payment made, cancellation of order will not be accepted.

In the case of inclement weather (black rainstorm or typhoon signal no. 8 or

above), unexpected traffic and situational issues that are beyond our control, we shall contact you to make other delivery arrangements and in any event Synergy Catering is not liable to any person. If your order delivery is cancelled owing to the above-mentioned reasons, you can contact us to reschedule the delivery once provided that the amended delivery date falls into one month of the original scheduled delivery date, otherwise your order is deemed to be forfeited by you and all related fees already paid by you are non-refundable in any event.

Delivery will be suspended when a black rainstorm or typhoon signal No.8 or higher is hoisted.

To ensure food safety and quality, please consume the ordered food as soon as possible upon arrival, or keep the food refrigerated and reheat it thoroughly before consumption.

The address and information provided are the full responsibility of the customer and if the address is incorrectly stated and the driver cannot make the delivery due to the address error, you the customer will assume full responsibility.