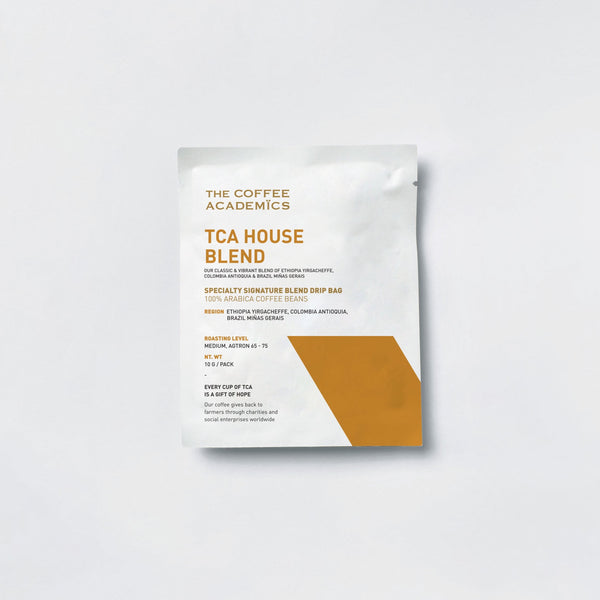 100% of coffee beans roast locally in Hong Kong
TCA House Blend is delicately composed of beans from 3 different origins which complement each other in its aroma, body and flavour, enhancing the light-medium roasting level.

30% came from Colombia, in the Huila region, called 'Colombia Supremo Huila', graded SC17/18.
30% came from various regions in Brazil, named "Samba". This beautiful natural-processed coffee from Carpricornio Coffee, empowers women in Brazil and in the international coffee community to achieve meaningful and sustainable lives.
40% is hailed from the Sakicha region in Ethiopia, called 'Ethiopia Guji Uraga Washing Station'. The coffee sourced from this region supports Girls Gotta Run Foundation.
70% of this blend gives back to farmer communities through charities and social enterprises.

Regions: Ethiopia, Colombia, Brazil

Varietal: Heirloom, Colombia F7, Bourbon

Altitude: 1,200 - 2,000 m.a.s.l.

Process: Natural, Fully Washed, Pulped Natural
Flavour: Fruity

Tasting Notes: Grapefruit | Citrus | Chocolate | Almonds


How to use:
1. Gently tear off the top of the drip bag.
2. Pull the flaps outwards to rest on the brim of the cup.
3. Pour 180ml hot water slowly into the drip bag.
4. Wait for it to brew about 2 mins.
5. Remove the drip bag and enjoy!

Better with:
Drip bag kettle
Camping mug