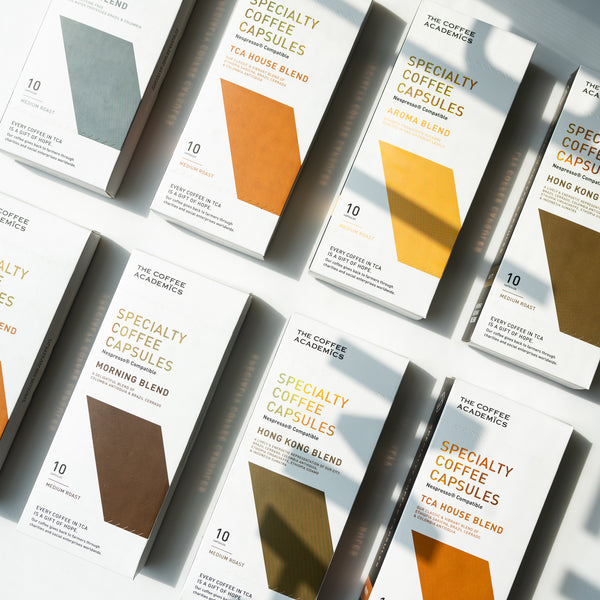 These coffee capsules are 100% biodegradable, including the lid is non-foil. Compatible with Nespresso Machines (see below), made in Australia.

70% of The Coffee Academïcs' House Blend contributes to social and environmental programs through charities and social enterprises worldwide, genuinely demonstrating 21st-century business leadership in Environmental, Social, and Governance. In addition, these capsules use biodegradable packaging to ensure we are giving back to earth. The Coffee Academïcs place corporate social responsibility at the forefront of our business, from supporting local social enterprises from each of our directly-sourced coffee regions to directly giving back to the local communities.
Origins: Ethiopia Sakicha, Colombia Antioquia,
 Brazil Cerrado
Varietal: Heirloom, Caturra, Catuai

Altitude: 900 - 2,300 m.a.s.l.
Process: Fully Washed, Pulped Natural

Flavour: Fruity

Tasting Notes: Citrus | Toffee | Jasmine
Weight: 5.3g per capsule
Average Cupping Score: 84
Our pods are compatible with DeLonghi/Breville Nespresso machines, which include the following models-

Le Cube
All Citiz models
All Essenza models
All Pixie Models
All Lattissima models
Maestria
Inissia coffee machines
LOR coffee machines

Compatibility is not guaranteed with these machines-

Breville/DeLonghi U Machines
Gaggia machines
Saeco machines
Siemens machines
Kitchen Aid machines
Romeo Nespresso machine
Capsule holder machines
Multi-capsule machines